Prophet Mohammad said God is Kabir - Garib Das Ji
God Kabir met Prophet Mohammad and took him to his own lok (place). However Prophet Mohammad did not show a desire to reside there. Prophet Mohammad was then sent back to the earth.
Prophet Mohammad got the commandment to keep fasts, do azaan and Namaaz. However there was no order to do any slaughtering or sacrifice of animals. Obeying those commandments, Prophet Mohammad never slaughtered an animal.
Speech by Garib Das Ji Maharaj.
In this speech Garib Das ji has described interactions between God Kabir and Prophet Mohammad. It also describes how God Kabir brought a cow back to life to help Prophet Mohammad in front of his followers to keep his pride. At that point Prophet Mohammad addressed God Kabir as the Supreme God.
Sat Granth Sahib by Garib Das ji Maharaj - Ath Mohammad Rameni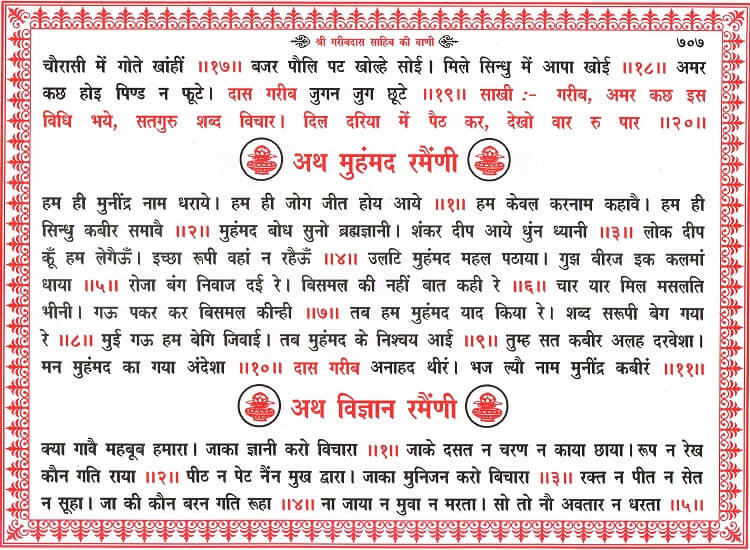 Muhammad bodh suno brahmgyani | Shankar dweep aaye dhunn dhyaani |3|
Sant Garib Das Ji is saying that please listen to Muhammad Bodh. Muhammad came from the lok (place) of Lord Shankar (Shiva)
Lok dweep kun ham le gayo | Ichha roopi vahan na reho |4|
God Kabir took Muhammad to his eternal place and showed him around. But Muhammad did show a desire to stay there.
Ulat Muhammad mahal pathaya | Gujh biraj ek kalma dhaya |5|
God Kabir then put Muhammad back in his body and granted him the "Kalma" - the prayer
Roza bang namaz deyi re | Bismil ki nahin baat kahi re |6|
God Kabir Says that we ordered him to do Namaz (prayer) but did not grant him any order to "slay" (Bismil) any living being be it animal or human.
Char yaar mil maslat bhini | Gau pakar kar bismil kinhi |7|
God Kabir then describes an incident where Muhammad amongst his accomplices killed a cow by the power of word. But he could not bring the cow back to life.
Tab ham Muhammad yaad kiya re | Shabad swaroopi baig gaya re |8|
Muhammad then invoked God kabir. On hearing his prayer, God Kabir appeared in front of Muhammad.
Mui gau ham beig jivai | Tab Muhammad ke nischay aayi |9|
God Kabir brought the dead cow back to life. On seeing that miracle Muhammad was relieved.
Tumh Sat Kabir Allah Darvesha | Man Muhammad k gaya andesha |10|
Muhammad then thanked and prostrated before God kabir and sang his glory by addressing him Allah, Darvesha. Muhammad further clarified that now his belief about Kabir being the Supreme God / Allah has become firm.
References
---