Markandeya Purana
Markandeya Purana - Story of Ruchi Rishi
Ruchi Rishi who was doing scripture based worship but was misled by his forefathers who forced him to follow arbitrary worship of performing shraadhs. The account proves that
Performing Sraddha is a useless act which is against the injunctions of Vedas and cannot grant moksha
(English text is underneath the hindi text)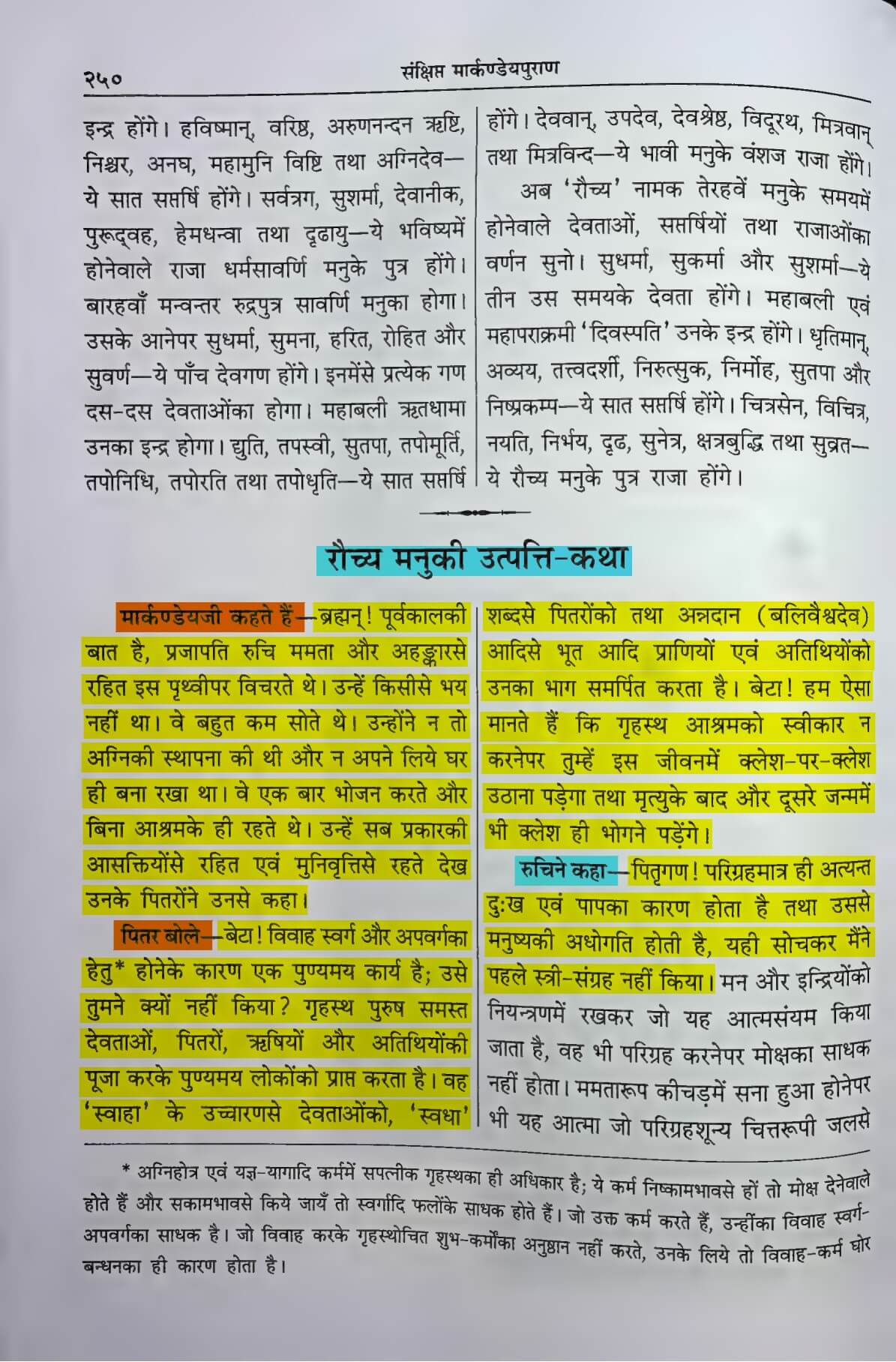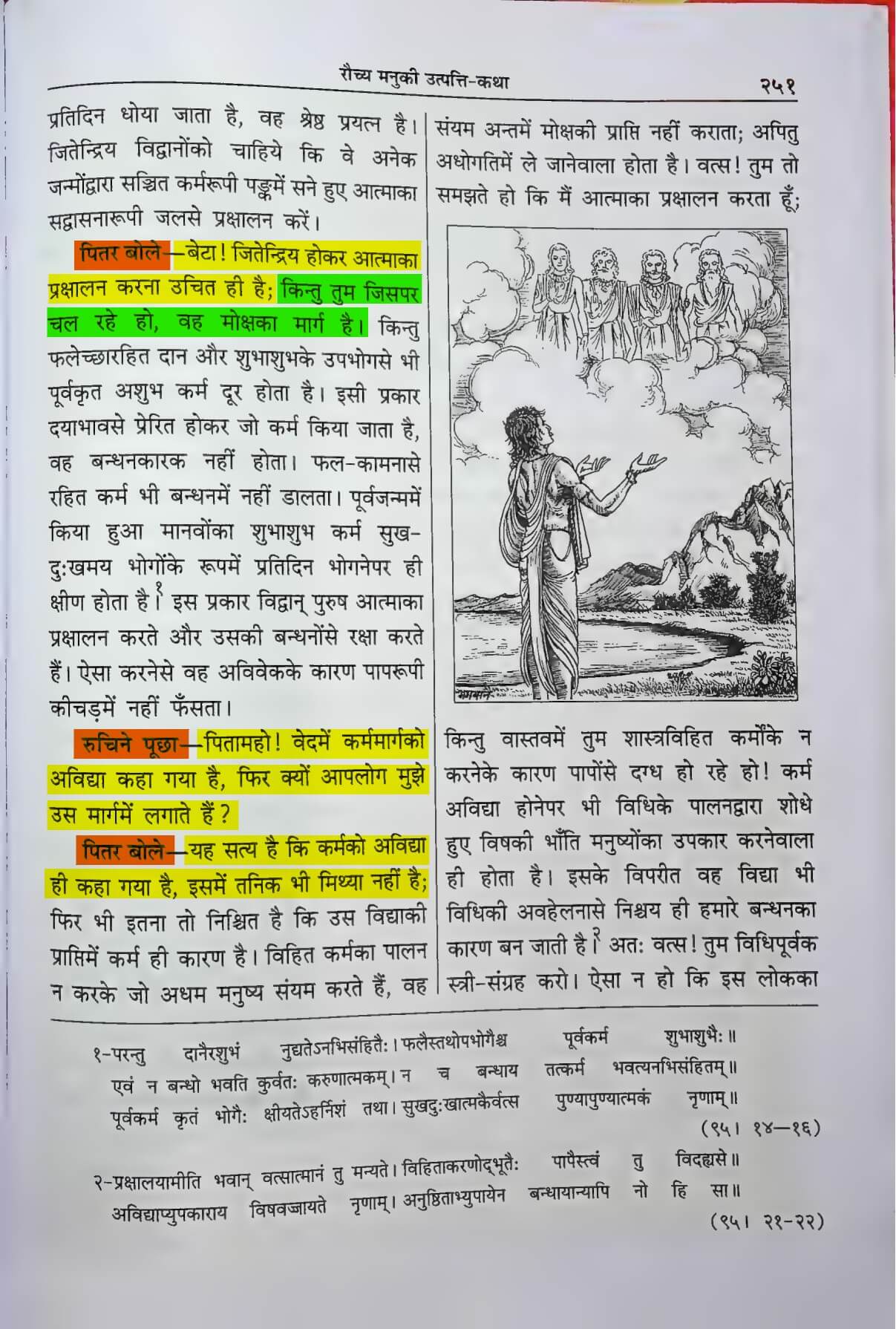 Markandeya spoke:
1 Prajapati Ruchi, who was devoid of self, free from pride, fearless and moderate in sleeping, formerly roamed this earth.
2 Seeing that he was destitute of fire, had no habitation, that he ate but once a day, had no hermitage, and was cut off from all attachments, his ancestors spoke to him, the muni.
The Pitras spoke:
3-8 Dear son, wherefore hast thou not done the sacred deed of taking a wife, since that is the cause of gaining Svarga and final emancipation from existence ? without that there is bondage perpetually. A house-holder by paying worship to all the gods and the Pitras likewise, to rishis and guests, gains the heavenly worlds. He apportions the gods their share by uttering • svaha' aloud, the Pitras by uttering ' svadha' aloud, created beings and other guests by the giving of food. Being such a negligent one, you would incur bondage by reason of the debt due to the gods,- bondage by reason of the debt due to us also, bondage unto men and created beings day by day, by not begetting sons, by not satisfying the gods and Pitras. And how, by not fulfilling these duties through folly, can you hope to go the good way ? We think affliction, one affliction after another, may be for thee in this world, O son ; hell likewise when you are dead, and affliction in sooth in another birth.
Ruchi spoke:
9-12 Wedlock tends to excessive suffering, and is a downward course toward sin ; hence I took no wife hitherto. Control which is gained over one's self, this is effected by firm suppression; it is the cause of final emancipation from existence ; that emancipation verily comes not from wedlock. That the soul, though besmirched with the mire of selfishness, be washed clean day by day by those who have no family ties with the waters of thought—better verily is this ! The soul, which is marked with the mire of actions that have developed during many existences, must be washed clean with the waters of good perceptions by wise men who keep their bodily organs under control.
The Pitras spoke:
13 Fitting it is that those who have their organs under control should cleanse their soul ; but does this path, wherein thou wendest, son, tend to final emancipation from existence?
14-16 Moreover evil is driven away by means of disinterested gifts, and by results and enjoyments which are good or ill according to former actions. Thus no bondage befalls him who acts with a tender heart, and such action being disinterested tends not to bondage. Thus a former action done, which consists of merit and demerit, is diminished day and night by enjoyments which consist of pleasure and pain, son, among mankind.
17 Thus wise men cleanse their soul and guard it from bonds ; thus, on the other hand, indiscrimination, which is the mire of sin, does not lay hold of it.
Ruchi spoke:
18 It is declared in the Veda, karm-marg (useless actions such as shradh) is avidya (foolish worship), O my forefathers. How then do you, despatch me on the path of action?
The Pitras spoke:
19-23 It is true that these actions you mentioned are foolish—this maxim is not erroneous; nevertheless action is the cause un-doubtedly of full acquisition of knowledge. On that view the restraint, which bad men observe because they do not perform what is enjoined, should tend ultimately to final emancipation from existence; on the contrary it produces a downward course. But you think, son, 'I will cleanse my soul'; yet you are burnt up by sins which arise from not performing what is enjoined. Even Ignorance exists for the benefit of men, just as poison does; although it is different, it does not in truth tend to bondage by reason of the means which are put into practice. Therefore, son, do take a wife according to precept; let not you birth be unprofitable by you not observing the business of ordinary life fully.
Ruchi spoke:
24 I am now aged; -who will bestow a wife on me, my forefathers ? Moreover it is hard for a poor man to take a wife.
The Pitris spoke:
25 Our downfall will assuredly come to pass, O son, and so also will your downward course; you do not welcome our speech.
Markandeya spoke:
26 Having spoken thus, the Pitras suddenly vanished from sight while he beheld them, best of muuis, just as lights when blown by the wind.
References:
---