Radha Soami Lineage
The list of succession of Radha Soami Gurus is as under
Soami Shiv Dayal Ji (Agra) - First Guru of Radha Soami Lineage
Baba Jaimal Singh (Punjab)
Maharaj Sawan Singh Ji
Maharaj Jagat Singh Ji
Maharaj Charan Singh Ji
Gurinder Singh Dhillon
There have been a few offshoots of this lineage which have been shown in the image below.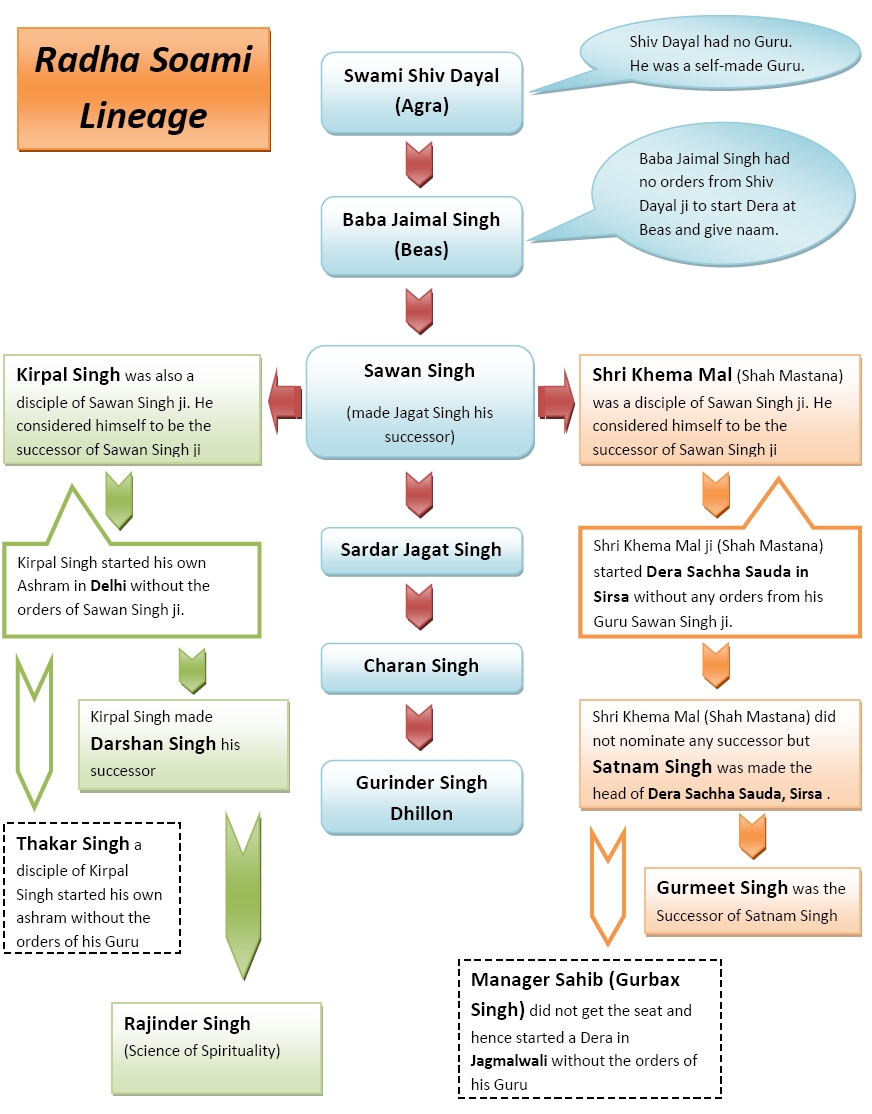 Reality of Radha Soami Lineage
Self made and arbitrary sect with no orders from the Guru
Hazoor Swami Shiv Dayal Ji Radha Soami had no Guru. Likewise other flag bearers of Radha Soami sect also did not have the orders of the Guru to give naam.
Radha Soami Lineage - Key Points
Seth Shiv Dayal ji was a self made Guru. He had no Guru.
Baba Jaimal Singh started dera in Beas, Punjab and started giving naam on his own without any orders from Swami Shiv Dayal
Hence Radha Soami panth has started without any Guru and is therefore a disconnected lineage right from the beginning. All the further Gurus in Radha Soami lineage have no credibility just because the initiators of this panth were self made and fake.
Likewise Dera Sachha Sauda (Dhan Dhan Satguru) started by Shri Khema Mal (Shah Mastana ji) of Balouchistan is a self made panth as it is an offshoot of the Radha Soami panth and moreover Shri Khema Mal ji had no orders from Sawan Singh ji Maharaj to start Dera Sachha Sauda in Sirsa, Haryana.
---