Radha Soami Satsang Beas / Agra
Radha Soami (Agra & Beas) - Incomplete Saints / अधूरे संत

Radha Soami sect originated in Agra and was started by Soami Shiv Dayal Ji Maharaj. From Agra, a branch came to Dera Beas in Punjab which was started by Baba Jaimal Singh. From Baba Jaimal Singh, the dera seat was handed over to various other gurus. The list of radha soami gurus is as below.
Radha Soami Gurus
Soami Shiv Dayal Ji (Agra)
Baba Jaimal Singh (Punjab)
Maharaj Sawan Singh Ji
Maharaj Jagat Singh Ji
Maharaj Charan Singh Ji
Gurinder Singh Dhillon
Soami Shiv Dayal Ji Maharaj
Soami Shiv Dayal Ji Maharaj is considered the first guru of Radha Soami sect. Soami Shiv Dayal Ji was born on 25th August 1818. He was known as Seth Shiv Dayal Ji. His ancestors were from Punjab. His parents were followers of Tulsi Das Ji of Hath Ras. However Soami Shiv Dayal Ji did not have any guru.
In Agra Soami Shiv Dayal Ji Maharaj started imparting naam diksha amongst his disciples on a whim. Seth Shiv Dayal Ji started imparting naam in 1861 on the day of basant panchmi.
Died: 1878.
Soami Shiv Dayal Ji Maharaj passed away in the year 1878.
The most important thing to know about Soami Shiv Dayal Ji Maharaj is that he himself did not have any Guru. He started the sect on his own and started giving naam diksha arbitrarily on his own.
Baba Jaimal Singh
Born: July 1839, Village Ghuman, Gurdaspur. Father's name - Sardar Jodha Singh, Mother's name - Bibi Daya Kaur.
Baba Jaimal Singh used to read Guru Granth Sahib. He had an inquisitiveness to learn about the "Paanch Naam" (5 naams) as he had read about them in Sri Guru Granth Sahib. To find out about the 5 naams, he wandered around and met various people. He reached Soami Shiv Dayal Ji in Agra in 1856 and and gained knowledge from him. Baba Jaimal Singh took naam diksha in the year 1856 from Soami Shiv Dayal ji Maharaj. (this is however in contradiction to the date when Soami Shiv Dayal Ji started giving naam openly in 1861)
After coming back from meeting Shiv Dayal Ji, Baba Jaimal Singh joined the army and worked in army for 32 years. He retired on 18th August 1889. After retiring from the army, Baba Jaimal Singh started a dera called "Dera Baba Jaimal Singh" in Beas, Punjab. Baba Jaimal Singh then started giving naam diksha in 1889.
Baba Jaimal Singh Ji died on 29th December 1903. Six months prior to his death, Baba Jaimal Singh appointed Maharaj Sawan Singh as his successor.
The most important point about Baba Jaimal Singh is that he did not have any orders from Soami Shiv Dayal to start a dera in Punjab and give naam diksha (initiation).
Sawan Singh
Born: 20th July 1858, Village Jatana, Ludhiana. Father's name - Kaabal Singh. Mother's name - Jivani Ji.
Baba Sawan Singh was a successor of Baba Jaimal Singh Maharaj. He was appointed the head of Radha Soami Dera in the year 1903. During his tenure Baba Sawan Singh ji imparted naam daan to 1.25 lakh followers. Baba Sawan Singh Ji handed over the seat to Sardar Bahadur Jagat Singh on 20th March 1948 via a registered will. Sawan Singh Ji died on 2nd April 1948.
Two disciples of Sawan Singh Ji started their own sects without any orders from Sawan Singh Ji Maharaj. These were

Khema Mal who started Dera Sacha Sauda in Sirsa and
Kirpal Singh who started an ashram in Delhi.
Please read Radha Soami Lineage
Jagat Singh
Born: 27th July 1884. Father's name - Sardar Bhola Singh.
Sardar Jagat Singh was the successor of Baba Sawan Singh Ji Maharaj and was appointed the head of Radha Soami Dera on 20th March 1948. Sardar Jagat Singh then gave the seat to Charan Singh Maharaj who then gave it to Gurinder Singh Dhillon.
From Maharaj Sawan Singh to Gurinder Singh Dhillon, the seat has been succeeded in a linear fashion and each of these gurus were appointed by the previous ones.
Key Knowledge
Radha Soami Gurus consider God to be formless. This is in contradiction to the Holy Scriptures which describe the God to be in form (human form). Vedas, Gita, Bible, Quran etc. all describe God to be in form. All these scriptures describe the Supreme God to be Kabir. Hence Radha Soami concept about God and their knowledge about God is faulty and incomplete. In other words the knowledge given by Radha Soami Gurus is useless, and nothing can be achieved by following the faith let alone salvation.
Radha Soami - Arbitrary Name
There is no mention of the name "Radha Soami" in any of the Holy Scriptures. This term was coined by Rai Salig Ram who used to address Naraini Devi (wife of Seth Shiv Dayal Ji) as "Radha Ji". This is how the name "Radha Soami" came in to being. The actual meaning of the word Radhasoami (Radhaswami) is Shiv Dayal ji. Spiritually speaking the name "Radha Soami" is a hollow and a completely useless name
Naam Daan - Paanch Naams in Radha Soami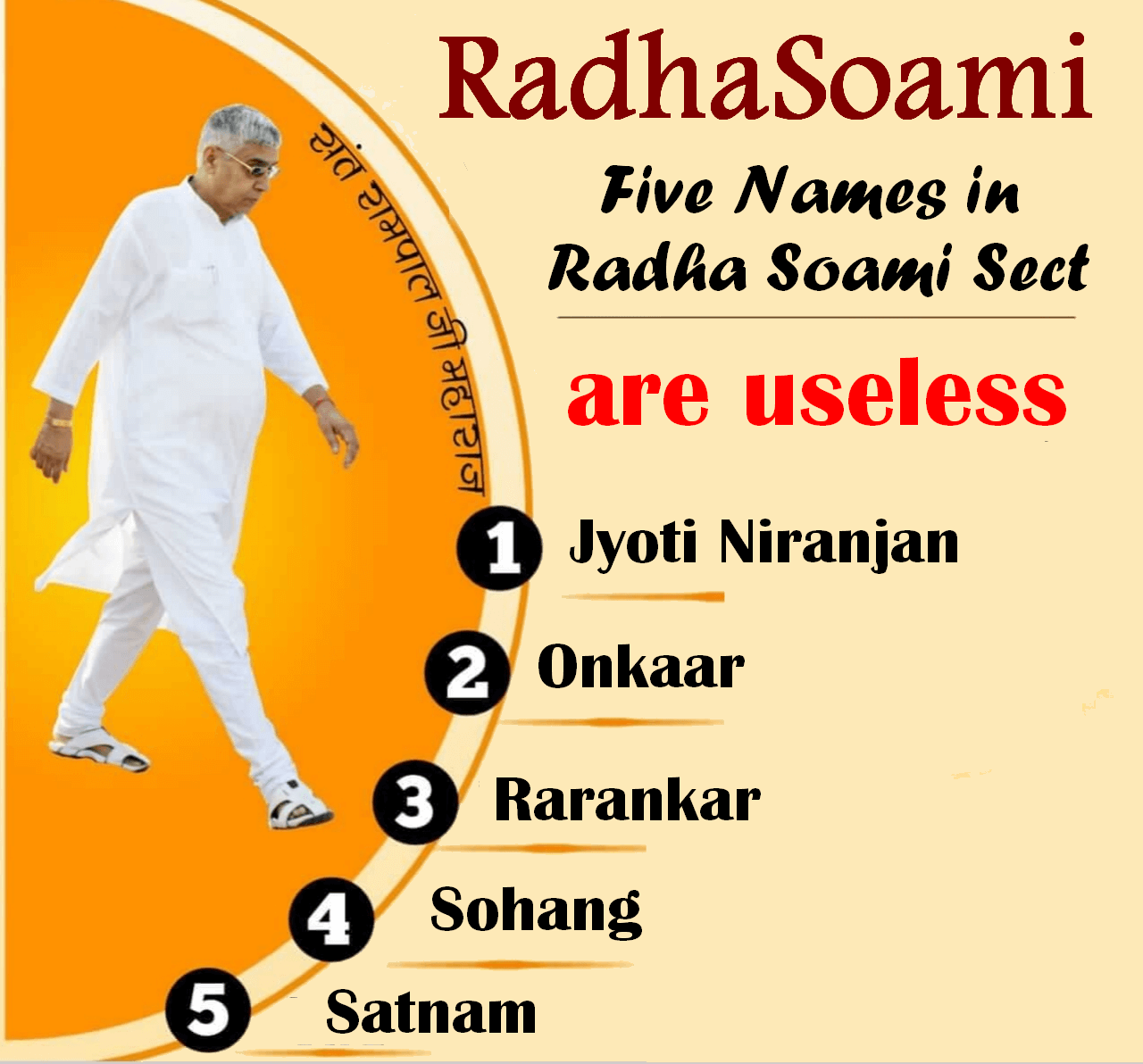 The Paanch Naams (Five names) given in Radha Soami faith are wrong. Tulsi Das ji of Hath Ras describe these names to be those of Kaal.
Two shabads by Kabir Sahib, Santo Shabadai Shabad Bakhana and Kar Naino Didar give a complete description of these naams and their actual state. This is where Radha Soami Gurus have acquired these names.
Radha Soami - Faulty and Incomplete Knowledge
Radha Soami Satsang Beas & Agra | All Topics
References
---